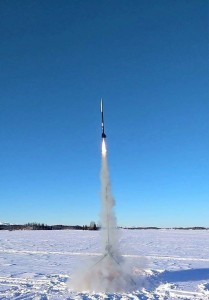 Coordination Procedures
1.   Any club member can announce a launch and specify the date, time, venue and launch class (LP/MP or HP L1, L2 or L3).
2.   That individual will then be the "Launch Coordinator", or "LC" for that launch. If the launch is to be made under the Club banner (which includes all HP activities), the LC must notify at least one of the Club officers, specifically the President, Vice President or Secretary. This should be done primarily via phone contact.
3.   The LC will be responsible for notification of club members and other interested parties of the specifics for the launch, notification/coordination with the FAA if applicable, and coordination of the club resources (launchers, launch boxes, launch fee box, etc) and appropriate RSO to support the launch.
4.   Notification of the club membership will be done primarily via the club email list.  A preliminary notification should be made as soon as the launch date is set.  If the preliminary notification is sent more than two weeks prior to the launch, a secondary notification should be sent 3-5 days in advance of the launch.
5.   The Launch Coordinator will make the final Go/No-Go decision not later than 10:00am on the morning of the launch and will notify the group via email.
6.    As feasible, the launch date, time, venue and power level will be posted on the Club web site and Facebook account, as will the Go/No-Go decision. HOWEVER, due to the limited accessibility to these accounts, these notifications will be advisory only. If, for whatever reason, the Launch Coordinator cannot perform all of the duties, then he/she can contact another club member to assume the post.  Club officers can also assume the duties of Launch Coordinator should the LC be incapacitated or out of communication.