LOW and HIGH POWER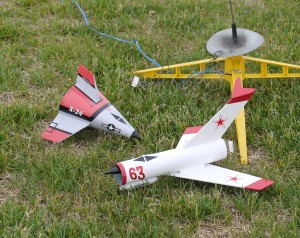 PREFLIGHT PROCEDURES
Alaska Northstars, May 2013 (Updated on June 3, 2015)
THE ROCKETEER WILL:
Construct the rocket using adequate levels of craftsmanship and materials;
Perform calculations and/or simulations to assure performance for the given flight configuration to assure proper CP (Center Of Pressure) to CG (Center of Gravity) relationship for the given flight configuration. This is only necessary for scratch-built rockets or modified kits;
Have the CP and CG marked on the rocket (not necessary for unmodified kits);
Properly select, assemble and install the motor;
Test any electronics used in the recovery system;
Ground test the recovery system – perform live ejection charge tests for the given flight configuration and any time the rocket configuration is changed;
Fill out a launch card;
Present himself/herself and the rocket to be flown at the RSO table when ready to fly;
Execute the RSO's preflight procedure – SEE/REF RSO CHECKLIST;
Be prepared to answer any questions the RSO may have about the rocket at the preflight safety check;
Fill out the launch log;
Confirm the pad and personnel positions are correct in relation to the projected flight path;
In coordination with and approval from the LCO proceed to pad and ready rocket to fly;
Confirm launch rod/rail alignment is correct for conditions;
Arm and confirm flight electronics after rocket is upright on rail;
Install igniter after electronics armed and rocket on rail (not required for most model rockets);
Arm pad launch circuit;
Upon approval from the LCO, proceed to launch the rocket;
Perform range and sky checks at T-Minus 30 seconds;
Perform final range and sky check at T-Minus 10 seconds;
Arm launch controller at T-Minus 10 seconds;
Begin Countdown at T–Minus 5 seconds;
Start ignition at T– Minus 1 second;
THE RSO WILL:
At the RSO table;
Physically inspect the rocket for construction integrity
Assure CG and CP are marked on the rocket
Inspect the recovery system; shock cord, hardware, and parachute
Ask the rocketeer about the motor;  proper selection, proper loading/construction process
Perform CG check
Ask any questions the RSO deems prudent
Check the rocketeer's launch card and fill out appropriate parts
Ascertain the rocketeer understands launch process and range  safety procedures
Assure launch pad alignment is safe for given wind conditions and personnel location
Communicate a GO/NO GO to the Launch Controller
In coordination with the LCO, assign a launch pad
 THE LAUNCH CONTROLLER WILL:
Alert all personnel that a launch is imminent
Assure recovery personnel are at standby Perform a sky check
Perform a range clear check
Work with rocketeer to perform the launch
EVERYBODY WILL:
PAY ATTENTION WHILE LAUNCH OPERATIONS ARE ONGOING!
Act as safety monitors – safety is EVERYBODYs business – call "KNOCK IT OFF" if you see a safety issue
Assist in tracking the rocket upon launch
Follow the directions of the RSO and LCO
IF ANY OF THE PRECEDING CONDITIONS ARE NOT MET  – THE ROCKET WILL NOT FLY UNTIL THE DISCREPANCIES ARE CORRECTED AND THE RSO RE-INSPECTS AND APPROVES FOR FLIGHT!